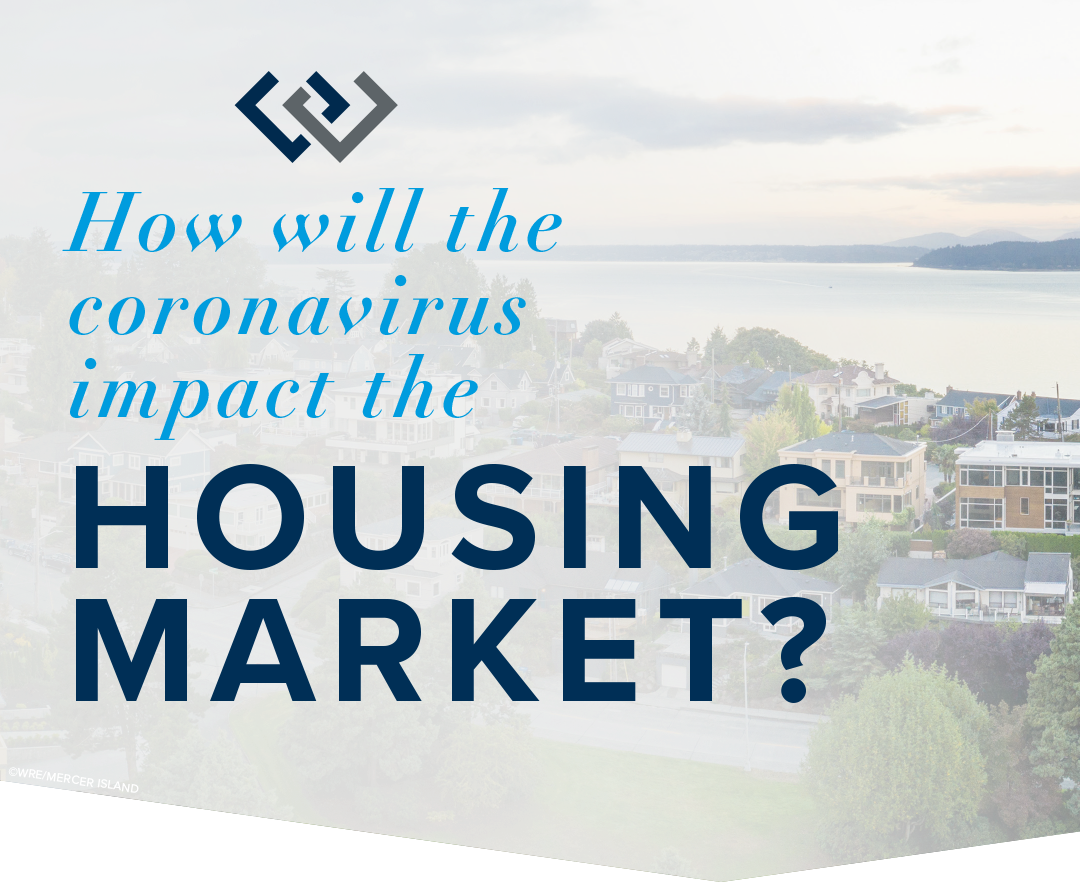 As we all hunker down through these challenging times, it is comforting to remember that there will be light at the end of the tunnel.
A voice of calm and reason in this time of uncertainty has been our Windermere Chief Economist, Matthew Gardner. While he is expecting an economic slowdown accompanied by a temporary 15-20% reduction in the number of homes sold, he believes the housing market will bounce back once we find our new normal.
Click here to watch his latest videos, or scroll down for some key takeaways…
---
The US economy will contract sharply but should perk up by Q4.
We're in for a rough few quarters as the economy enters a recession. Just how rough—and how long—is still under debate. What economists do agree on is that the 4th quarter is looking remarkably positive…assuming we get through the COVID-19 crisis and the economy can resume somewhat normal activity before the fall.

---
Housing prices will likely remain stable.
Seattle home prices should remain steady—or even rise slowly as we come out of the recession—for a few reasons:
DIVERSE INDUSTRIES IN OUR AREA which allow us to better weather the economic storm.
SOLID FINANCIAL FOOTING as one third of local home owners have 50% or greater equity in their homes.
STRONG DEMAND with more buyers than homes available, as well as rock-bottom interest rates.

---
This will be different than 2008…
We're experiencing a health crisis, not a housing crisis.
WE'LL SEE A PAUSE, NOT A COLLAPSE. Unlike last time, the housing market was strong going into this crisis and should rebound quickly. Why? Because this recession will be due to specific external factors rather than any fundamental problem with the housing market.
FORECLOSURES WILL BE FEWER with most lenders offering relief to homeowners in distress due to temporary employment issues. Unlike 2008's mortgage crisis caused by lax lending standards and low down payments, today's home owners are better qualified and have more equity in their homes.

---

Find a Home | Sell Your Home | Property Research
Neighborhoods | Market Reports | Our Team
We earn the trust and loyalty of our brokers and clients by doing real estate exceptionally well. The leader in our market, we deliver client-focused service in an authentic, collaborative and transparent manner and with the unmatched knowledge and expertise that comes from decades of experience.
2737 77th Ave SE, Mercer Island, WA 98040 | (206) 232-0446
© Copyright 2020, Windermere Real Estate / Mercer Island
Posted on April 7, 2020 at 2:39 pm
Windermere MI
Category:

Economic Trends, Real Estate Trends
Tagged

coronavirus, covid-19, equity, home prices, housing market, interest rates, Market Reports | Tagged buy, Matthew Gardner, Puget Sound, real estate, recession, Seattle, sell
We've seen some volatility in mortgage interest rates since the presidential election. When Freddie Mac released the fixed and adjustable rates on Thursday, November 17th, they had gone up considerably. 30-year fixed rate mortgages jumped from 3.57% the week before to 3.94%. 15-year fixed rate mortgages climbed from 2.88% to 3.14%. 5-year adjustable rate mortgages followed suit, jumping from 2.88% to 3.07%.
However, we need to keep things in perspective. At this time a year ago, 30-year fixed rate mortgages were 3.97%.
When the Federal Reserve meets December 14th, it would not be surprising to see an increase in short-term rates. It's projected they will increase them a quarter of an interest point at this meeting. If the Federal Reserve does move forward with a rate increase, there's talk of slowly increasing mortgage rates to follow. The uptrend is expected to be modest, until we see stronger inflation, or until the Fed decided to move the 10-year Treasury Bond Rate closer to a "norm" of 3%.
On November 11th, Kiplinger mentioned in their Economic Forecast for 2017 that they projected the 10-year Treasury Bond Rate would remain at 2.1%, until the end of 2016. However, this past week we saw it rise to 2.34%. Erin Lantz, vice president of mortgages for Zillow Group, is quoted as saying, "There is a flight to safety of assets outside the U.S.," in response to the jump in yields for the 10-year Treasury Bonds.  Kiplinger had projected in their economic forecast we should see the 10-year Treasury note yielding around 2.5 by the end of 2017, with the average 30-year fixed rate mortgage moving upward toward 4.3%, and 15-year fixed rates around 3.6%. These are economic indicators we will need to monitor closely in upcoming days.
Until we know more know about the policy proposals President-Elect Trump will bring to the table, there may be a sustained increase level of uncertainty mirrored in interest rate levels. Erin Lantz stressed patience for home buyers, "Consumers considering buying or refinancing now should stay patient, as we'll likely see rates stabilize once markets find a new equilibrium."  Freddie Mac's chief economist, Sean Becketti, surmised that those who were waiting to see what interest rates were going to do will jump off the fence, under certain circumstances, "If rates stick at these levels, expect a final burst of home sales and refinances as 'fence sitters' try to beat further increases, then a marked slowdown in housing activity."
The Wall Street Journal surveyed 57 economists between November 9th and 11th, asking for their forecast for 2017 and beyond. The average forecasts delivered by this group for growth, inflation and interest rates – in both 2017 and 2018 – all reported slight upward movement, when compared to their survey responses given before the election in October. Many of the responding economists added the caveat that their estimates were tentative. "Anyone who tells you they absolutely know what will happen under a Trump presidency is probably lying," said Megan Greene, chief economist at Manulife Asset Management. There is definite concern regarding White House missteps, and the potential for trade wars to erupt. A number of economists continue to worry about a decline in business investment. Robert Dietz, chief economist at the National Association of Home Builders shared, "Uncertainty on major policy issues limits hiring and investment decisions." Across the board, however, the economist respondents to the WSJ survey estimate about a 1 in 5 chance of dipping into recession within the next 12 months. These replies are a slight decline when compared to data collected over the past three months, but are up from 14% a year ago.
We'll have to be patient, as Erin Lantz suggested, until we see more concrete policy language from the Trump transition team. Continue to keep in mind how low our interest rates are now – they are historically low, and on par year-over-year. If you have any questions regarding interest rates, and the current state of our housing market, let's schedule a time to talk. Please email me at marianne@windermere.com.
photo credit: pixabay